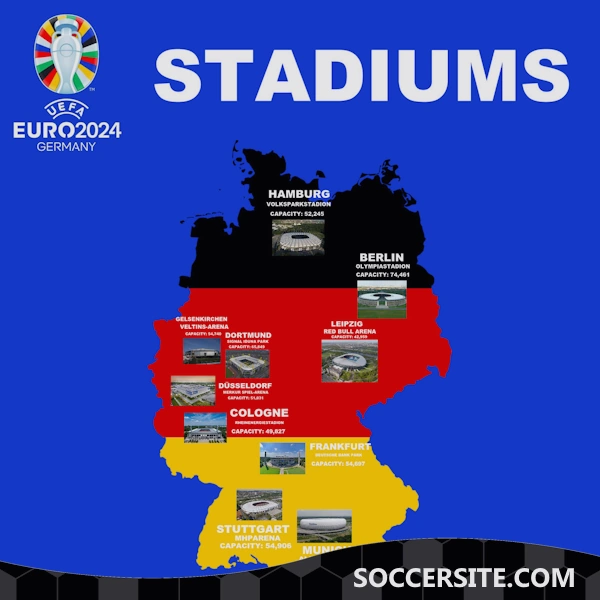 As excitement builds for Euro 2024, the focus is not just on the teams and players, but also on the magnificent venues across Germany that will host the matches. Each stadium in this list is a marvel in its own right, combining rich footballing history with state-of-the-art facilities. Let's explore these ten stadiums that will serve as the battlegrounds for Europe's elite football nations.
Allianz Arena - Munich
The Allianz Arena, known for its futuristic facade and home to Bayern Munich, boasts a capacity of over 75,000. Famous for its atmosphere and cutting-edge amenities, the Allianz Arena is poised to host some of the most pivotal matches of Euro 2024, including a semi-final.
Signal Iduna Park - Dortmund
Signal Iduna Park, with its renowned 'Yellow Wall', is the heart of Dortmund's football passion. Accommodating more than 81,000 fans, it's known for an incredible matchday atmosphere that embodies the spirit of football.
Olympiastadion - Berlin
The Olympiastadion in Berlin, a stadium steeped in history, blends traditional architecture with modern functionality. With a capacity of around 74,000, it's a fitting venue for major Euro 2024 fixtures, including the final.
Mercedes-Benz Arena - Stuttgart
The Mercedes-Benz Arena in Stuttgart, holding over 60,000 spectators, is known for its vibrant atmosphere and acoustic excellence. It's set to provide an intimate and electrifying experience for group and knockout stage matches.
Veltins-Arena - Gelsenkirchen
The Veltins-Arena, featuring a retractable roof and a sliding pitch, is a testament to innovation in stadium design. With a capacity of over 62,000, it offers a unique and comfortable viewing experience for Euro 2024 attendees.
Red Bull Arena - Leipzig
Leipzig's Red Bull Arena, a modern stadium with fantastic sightlines, can hold over 42,000 fans. As one of the newer venues in Germany, it adds a contemporary edge to the tournament.
RheinEnergieStadion - Cologne
The RheinEnergieStadion in Cologne, with a capacity of around 50,000, is known for its dynamic atmosphere. The stadium's design ensures fans are close to the action, making for an exhilarating football experience.
Deutsche Bank Park - Frankfurt
Deutsche Bank Park in Frankfurt, with a capacity of approximately 52,000, combines innovative design with a rich footballing heritage. Its retractable roof ensures a seamless experience regardless of weather conditions.
Volksparkstadion - Hamburg
Hamburg's Volksparkstadion, home to Hamburger SV, has a capacity exceeding 50,000. It offers a blend of traditional football atmosphere and modern facilities, setting the stage for some memorable Euro 2024 matches.
Merkur Spiel-Arena - Düsseldorf
The Merkur Spiel-Arena in Düsseldorf, a multifunctional venue with cutting-edge design, holds over 54,000 spectators. Its state-of-the-art facilities and retractable roof make it an ideal setting for high-profile matches.
From Munich's architectural marvel to the historic Olympiastadion in Berlin, each venue for Euro 2024 is set to contribute its unique character to the tournament. These stadiums are not just sports venues; they are temples of football where history will be made and legends born. Fans attending the tournament can expect a feast of football in some of the finest stadiums the sport has to offer.